Background on Deriv Payment Agents
Use Table Of Contents To Jump To Any Section
Deriv introduced payment agents in South Africa in 2020 and they have become a very popular way of depositing and withdrawing.
In this article, you will learn how to register as a payment agent on Deriv so that you can help traders deposit their funds to trade forex and binary options. You will also learn how you can make money as an agent.
What Is A Deriv Payment Agent?
A Deriv payment agent is an independent exchanger who has been given authority to process deposits and withdrawals for other Deriv trader's accounts. Payment agents do not work for Deriv.
Why Are Deriv Payment Agents Neccesary?
Deriv payment agents are important because they allow clients to deposit and withdraw using methods that are not supported on the Deriv website.
For example, a trader in South Africa may want to fund their account using e-wallet funds or cash but they can't do that directly on the Deriv website.
They can contact a local Deriv payment agent and then they arrange to have the payment agent fund their account while they pay them using the e-wallet or cash.
In a withdrawal scenario, the trader may wish to withdraw but their withdrawal method is not supported by Deriv. They may want to have cash or e-wallet and both of these are not
It may also be that their preferred withdrawal method does not provide services to their country. What happened when Skrill closed accounts for some countries including Zimbabwe & Togo comes to mind.
The trader will then withdraw funds via an agent and that agent can pay the trader either using cash, bank transfers or mobile money as per the arrangement.
In both instances, if payment agents did not exist then the trader would have been stuck and would not have had the opportunity to either deposit or withdraw.
How To Become A Deriv Payment Agent in South Africa
To become a Deriv payment agent you will need the following:
A fully verified Deriv trading account (If you don't have a Deriv account you can apply for one here & learn how to verify the account here)
Name, email address, and contact number
Payment Agent name. This is the name that will be displayed on the payment agent list for your country
Your website and social media pages/channels (Facebook/Instagram/Telegram/WhatsApp) where you promote your payment agent services
A list of accepted payment methods (these are the payment methods that are not accepted on Deriv that you will use to get paid by traders e.g local bank transfer, e-wallet & cash)
The commissions to be charged on deposits and withdrawals (subject to Deriv's established thresholds of 1-9%)
You may also be asked to state the methods you will use to fund your payment agent account so that you have the balance needed to deposit to the client's accounts (e.g PerfectMoney, WebMoney or AirTm)
You can also apply for a Deriv partner account. The Deriv partner account will allow you to earn even more lifetime passive commission from your referred traders and it will also expand your client base. Application for the account is free and you can apply here. This is different from your usual trading account.
You can learn more about how you can earn up to 45% lifetime commission as a Deriv partner without trading
Open A Deriv Affiliate Partner Account Here

How To Register As A Payment Agent On Deriv
Send an email with the above requirements to partners@deriv.com.
Deriv will review your application and get in touch for further information and the next steps.
After final approval from Deriv's compliance team, they will publish your details on their payment agent list.
You can then start processing deposits and withdrawals on behalf of clients
How To Deposit To A Clients' Account As A Payment Agent On Deriv
1. Log into your Deriv account & click on Cashier>Transfer To Client (you will only see this option after you have been approved as an agent) You will see a page like this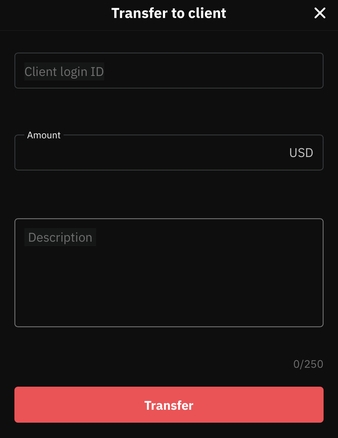 2. Enter the Clients login ID (CR Number). The client gets this number after registering for a real account on Deriv.
3. Enter the amount and any description needed. Click Transfer.
4. You will see a confirmation page with the clients' name, Cr number and amount. Verify these details and complete the transfer
How To Process Withdrawals As A Deriv Payment Agent 
1. The client gets in touch with you and confirms your agent name and cr number.
2. They log into their account and click on Cashier>Payment agents
3. They click on 'request withdrawal form' and confirm via email
4. They put in your Deriv Payment agent details
5. They confirm the transaction and the funds are moved from their account to your account
6. You pay them using the pre-agreed method
READ:HOW TO TRADE SYNTHETIC INDICES: A COMPREHENSIVE GUIDE FOR 2021  
Advantages Of Becoming A Deriv Payment Agent 
As a Deriv agent, you:
set the commission rate that you want for processing deposits & withdrawals
can perform multiple deposits and withdrawals per day.
choose the countries you want to serve
can easily convert your trading profits to local currency at any time by funding other traders accounts
can make transfers 24/7
can earn even more lifetime commission by signing up as a Deriv affiliate partner
can increase your business exposure eg if you offer a signal service you can then get more clients
Application for a Deriv payment agent account is free and you can close your account at anytime
can still use your account to trade normally
can protect yourself from some of the online forex scams targeting South Africans
can process deposits and withdrawals for clients who have not verified their trading accounts
How Do You Make Money As A Deriv Payment Agent?
Making money as a Deriv payment agent is pretty straightforward. You simply charge a commission for both deposits and withdrawals.
If your commission rate for both deposits and withdrawals is 5% you will make that much on every transaction you do. For Eg if a client wants to deposit $100 they will have to send you $105. If they want to withdraw they will send you $100 and you will send the $95 equivalent.
Your profitability will rely on the number of transactions that you do so you will need to properly advertise your services. Another great way to increase your earnings from Deriv will be to register as an affiliate partner. Here you will also get to make money from each and every trade that your referred clients will make on Deriv for life. This will be passive income that you can earn while you sleep!
Open A Deriv Affiliate Partner Account Here
The introduction of payment agents has gone a long way in making Deriv the best broker for South Africans.
Have you used a Deriv payment agent or Dp2p before? Would you like to become one? Do you think payment agents make Deriv one of the best brokers out there? Share your feedback in the comments below.
Frequently Asked Questions On Payment Agents In South Africa
Are payment agents paid by Deriv?
No, they are not paid by Deriv, they earn money from the commissions they charge on transactions.
How can I become the best payment agent on Deriv?
You need to accept a variety of local payment methods to make it easy for your clients to transact through you. You also need to charge friendly commission rates. On top of that, you need to always have float for either deposits or withdrawals. Completing transactions quickly will also help you become a preferred payment agent.