Do you know that you can trade volatility indices like forex on Deriv.com (formerly Binary.com)? Let us explain to you how they work and why you may be interested in them.
We will also be sharing signals on Volatility Indices soon so make sure you subscribe using the box below to get notified when we post the signals.
Deriv.com is mostly known for binary options trading and few people know that they do offer volatility indices that can be traded in the same way you trade your forex pairs.
What are Volatility Indices from Deriv.com
Volatility indices from  Binary.com (which is rebranding to Deriv.com) are synthetic indices that are simulated markets. They use randomly generated numbers to reflect the real financial market behaviour.
According to Binary.com, the random numbers are generated by a computer programme. For transparency issues, the broker is unable to influence or predict which numbers will be generated.
In other words, due to broker regulations, Deriv.com cant 'game the market'.
SUBSCRIBE FOR UPDATES
Subscribe below to get notified by email when I post new signals, tips or strategies.
What Are The Different Types of Volatility Indices offered by Deriv.com?
The volatility indices offered are 10/ 25 / 50 / 75 / 100. 
The numbers indicate the level of volatility in the various Indices markets. The volatility 10 index market is the least volatile and the volatility 100 index is the most volatile of these.
In addition, there are High Frequency (HF) Volatility Indices 10, 50 and 100. these move four times faster than the corresponding normal volatility index.
For example, HF 10 moves 4 ticks faster than Volatility 10 index.
These volatility indices can be used in binary options trading as well but we will focus on how to trade them in the same manner we trade forex.

How To Open a Volatility Indices Trading Account On Deriv.com
First, you need to open a
Deriv.com Account Here
.
This is the same account used for trading binaries so do not worry if you see written material on binary trading. You will see a box like this: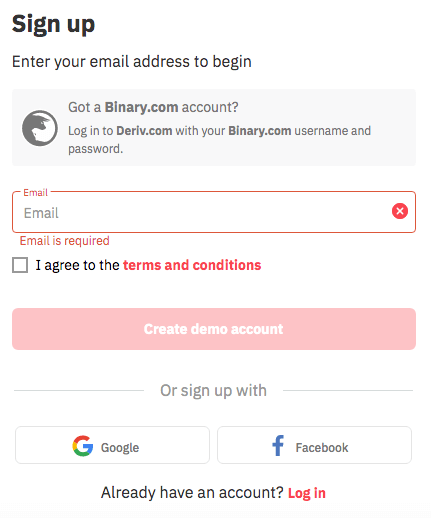 Enter your email and click where it says  'Create Demo Account'
Confirm your email by opening it and clicking the link sent by Deriv. If you dont findthe email check your Junk/Spam folder.
Complete the signing up by entering your preferred password and country of residence. 
2. Open MT 5 Account
After opening your general account you need to open an MT5 account which will enable you to trade the volatility indices. MT5 is an upgraded version of the MT4 we use in forex and its the future of trading as MT4 is going to be phased out soon. After creating your account look at the top right for this screen below.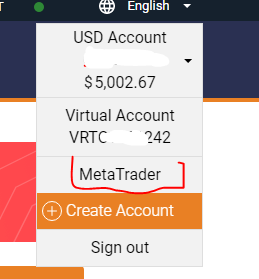 Click the drop-down arrow that will reveal your accounts both real and demo. You then click on where it says MetaTrader and you will get the screen below.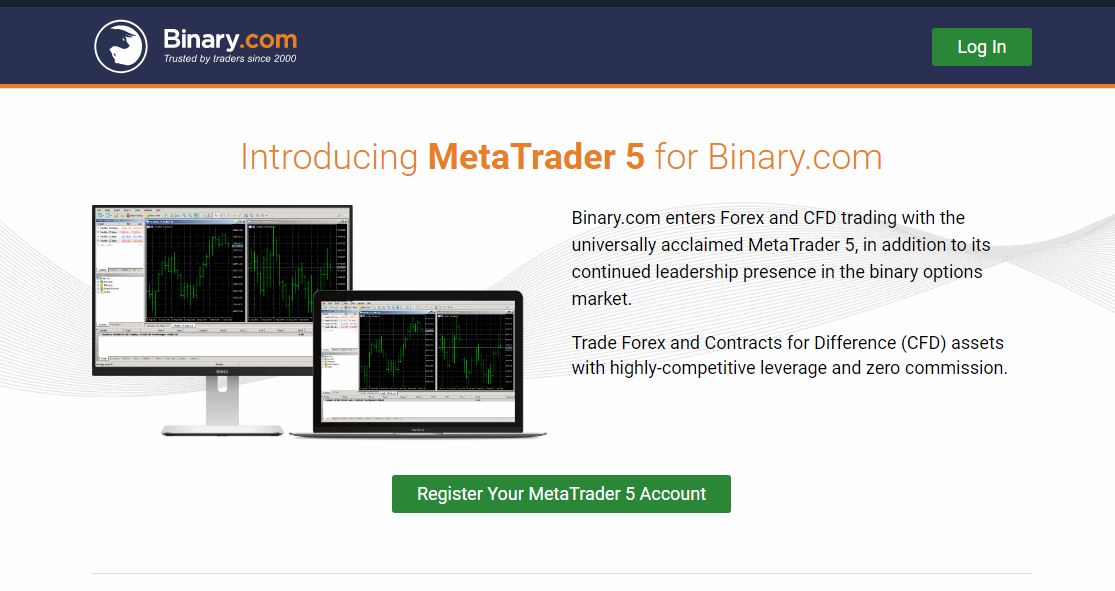 Register your account by clicking on the green button. 
Take note of the credentials you get when you register your MT 5 account. You will need them to access the platform later.
3. Download the MT 5 platform
You will then need to download the MT 5 on the next page that looks like this: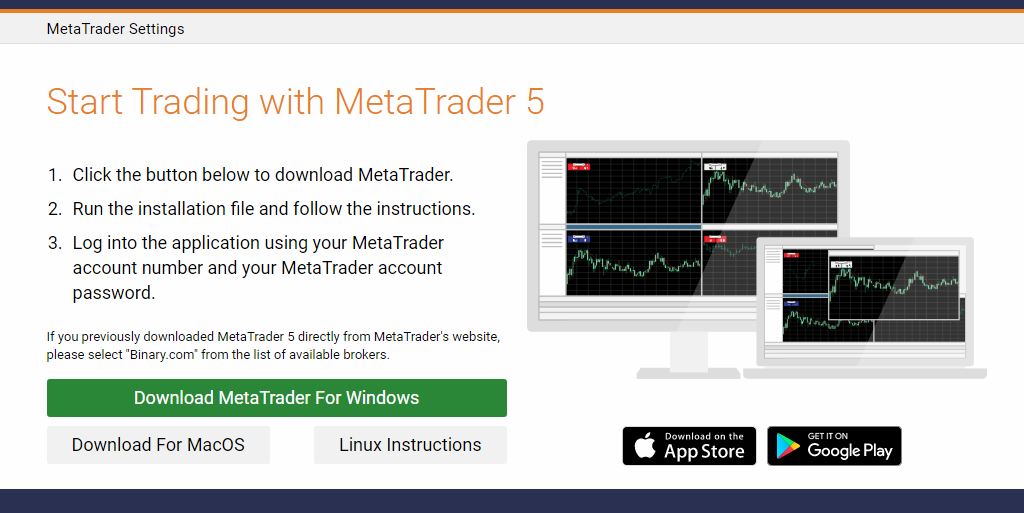 4. Login to your MT 5 account
Use your MT 5 credentials to log into your account & you can then start trading in the normal way.
You will notice many similarities with MT 4.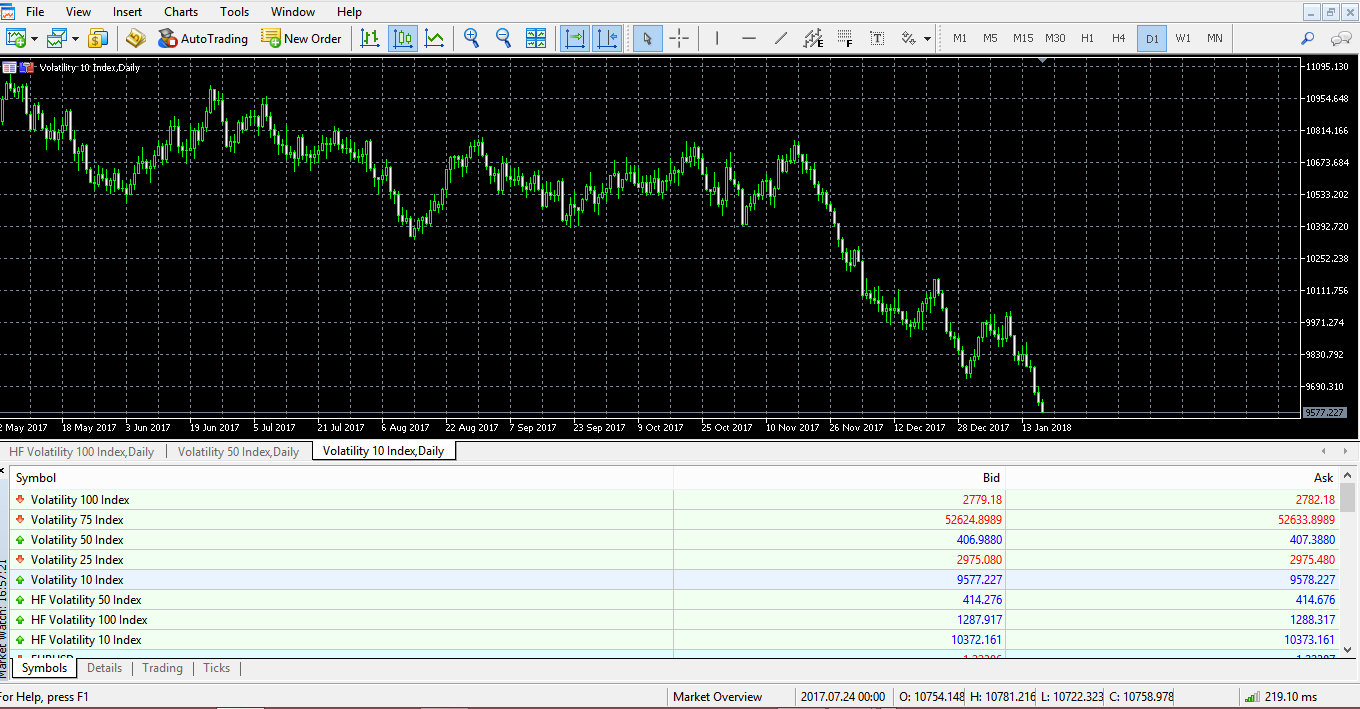 Why Be Interested in Trading Binary.com's Volatility Indices like Forex (as CFDs)?
You may be wondering why you need to bother yourself by trading these volatility indices like Forex when you can simply trade the real thing i.e currency pairs. The following reasons, in our view, make trading volatilities attractive.
Advantages of trading
Binary.com
 volatility indices.
Volatility Indices are not affected by fundamentals.
Volatility indices mimic the behaviour of the financial markets but since they are not like currencies, they are not affected by fundamentals like interest rate hike announcements.
If you have been trading forex long enough you will know that fundamentals can drive the market crazy.
As we write this, there was an interest rate hike by the Bank of Canada (BOC) Just yesterday and the CAD pairs had some crazy volatility.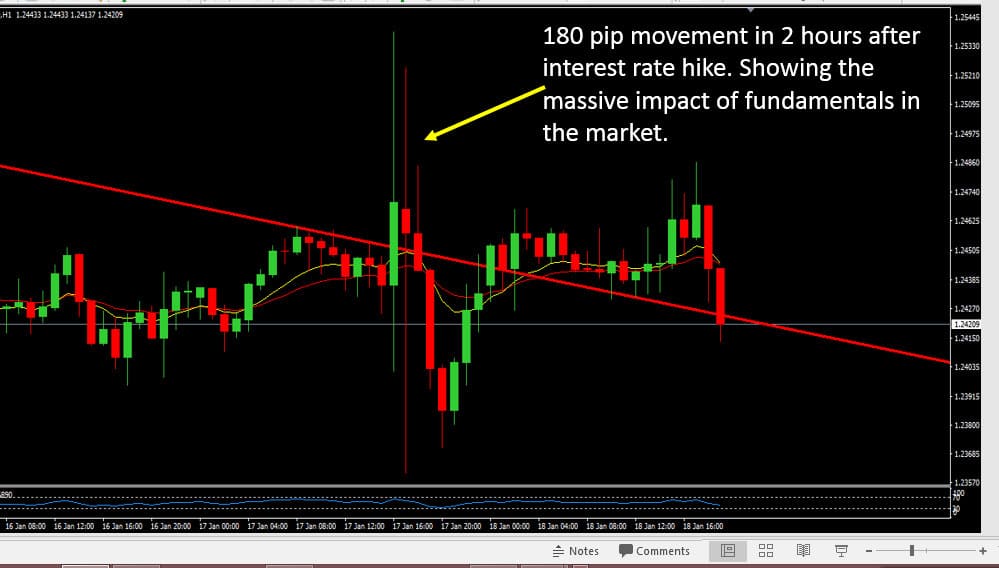 Such movements are quite rare when trading volatility indices & this is a major advantage.
2. You can Trade Volatility Indices 24/7/365
Volatility Indices are not only open during working hours like Forex. They available all year round including weekends and holidays. This makes them very convenient.
 
3. Volatility Indices have very low spreads
Spreads are a major cost in forex trading. It gets even trickier when you consider the fact that different brokers have different spreads.
This means that if you choose a broker with high spreads then your trading costs will shoot up.
Volatility indices have very low spreads getting as low as 1 pip in some instances. 
4. Volatility Indices can be traded with Price action 
This is the best of all these advantages for us. We believe price action simplifies the trading process. Let us show you examples of price action at play in volatility indices markets.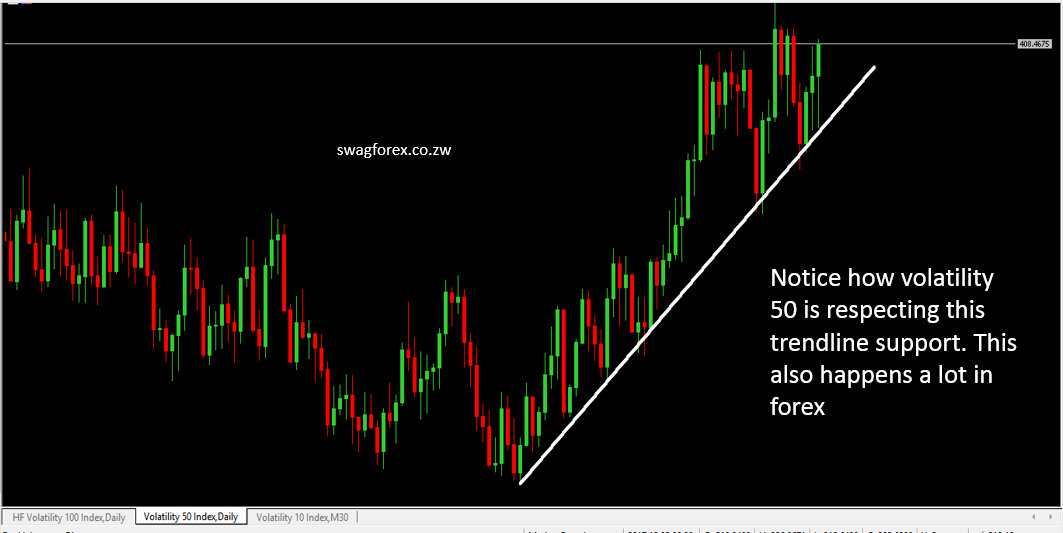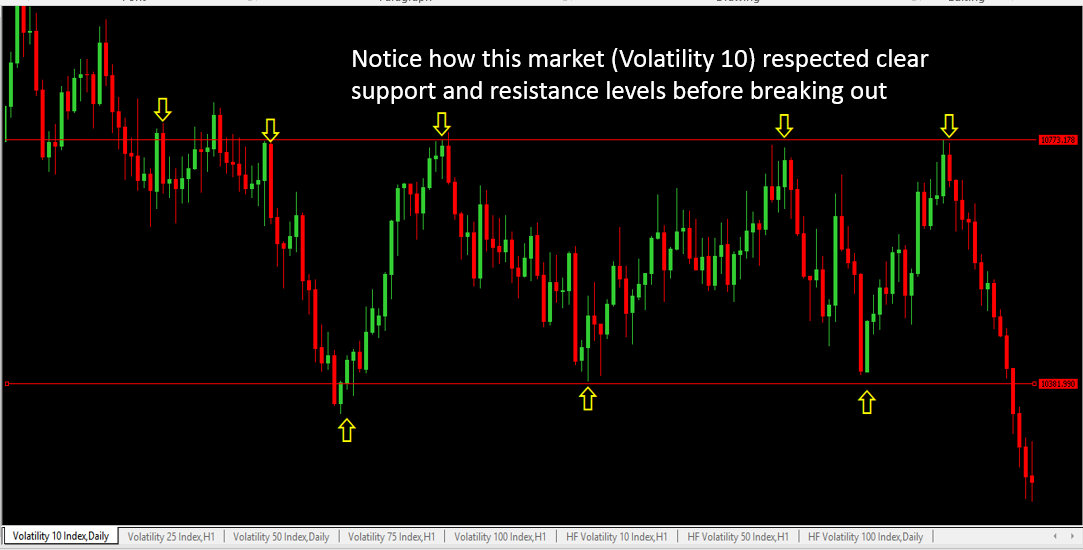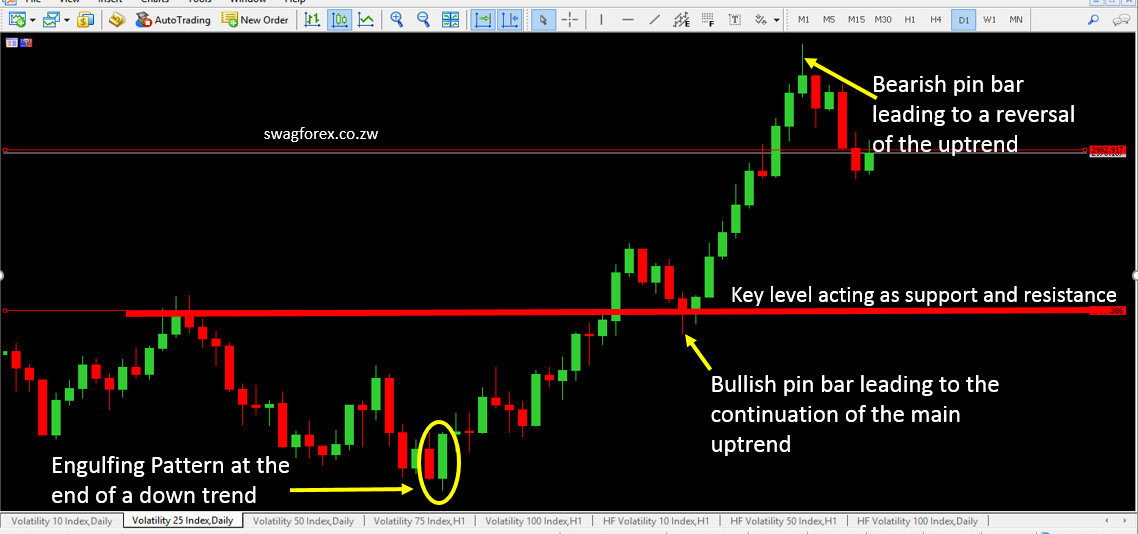 These few examples show that you can successfully trade volatility indices using price action.
 5. You can trade Cryptocurrencies on Deriv.com MT 5
This is a bit unrelated to volatility indices. However, cryptocurrency trading is fast gaining popularity and its something that I am interested in. In fact, I will be sharing crypto signals in the very near future. 
So one MT 5 account will allow you to trade volatilities, forex and cryptocurrencies. This makes it very convenient.
The table below shows the cryptos you can trade.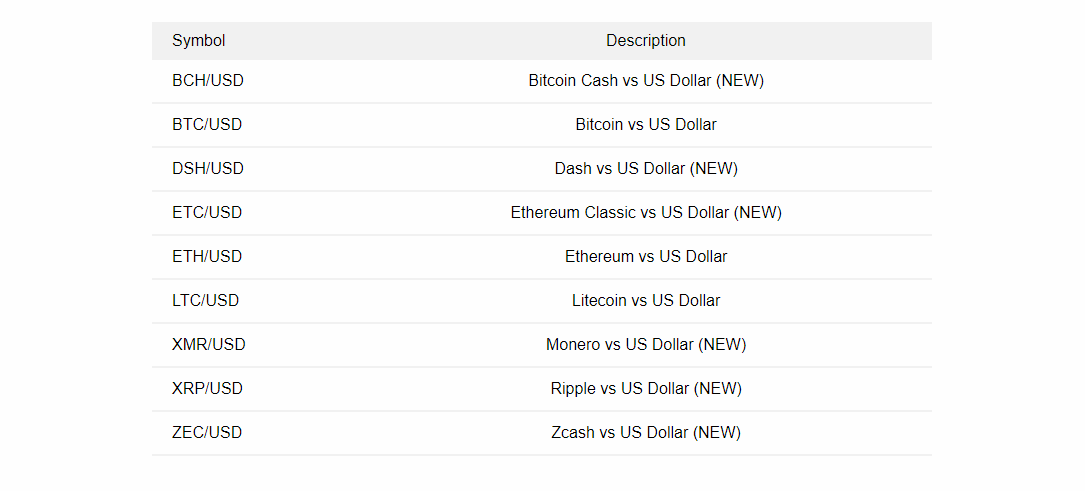 6. There is no Minimum Deposit Needed To Trade Volatility Indicies On MT5
This makes it convenient for you as a trader as you can decide to trade with as much or as little as you want.
7. You can Demo Trade Volatility Indicies
This is an advantage because you can get to know about the volatility indices and how to trade them without risking your money. You can test out various strategies risk-free.
Disadvantages of Trading Volatility Indices
There are a few disadvantages of trading volatilities indices from Deriv.com that you must be aware off before trading them.
Not all volatility Indices can be traded using 0.01 lot size
In forex, all pairs can be traded using the lowest lot size of 0.01. This helps in risk management and stop loss placement.
That is not the case with volatilities. The table below shows the various indices and their smallest lot sizes.
Volatility Index

Smallest lot size

Volatility 10 Index

0.10

Volatility 25 Index

0.50

Volatility 50 Index

0.50

Volatility 75 Index

0.01

Volatility 100 Index

0.01

High-Frequency Volatility 10 Index

0.10

 

High-Frequency Volatility 50 Index

 0.50

High-Frequency Volatility 100 Index

0.50
You have to be extra cautious when you trade to ensure that you use the correct lot sizes. For example, if you use 0.50 on Volatility 75 then you will open a very big position. If you use that lot size for, say HF 50, the position will not be so big. 
Be very wary of this, you can easily get into trouble.
There are very few Volatility Indices to choose from
Having fewer volatility indices to look at as compared to forex pairs can be both an advantage and disadvantage. 
It can be an advantage in that it makes it easy to track them. On the other hand, it may mean that at times there will be no tradeable setups on any of the indices. 
Volatility Indices are very Volatile
This may seem obvious but it needs to be stressed. What this means is that the market moves very fast in a short period of time.
Your account can easily be wiped out if you use the wrong lot size and you don't notice it.
Sometimes' the past market data of Volatility Indices disappears after Server Maintainance
The MT 5 servers that run these volatility indices are regularly maintained. At times when they get back up the historical data may not be available. This makes it hard to identify useful information like areas of support and resistance. 
However, this can be combated by looking at tradingview which has all the historical data. You can see the charts at tradingview.binary.com 

Conclusive remarks on Volatility Indices
Volatility indices offered a different trading experience that can be profitable. We would suggest you take your time and practice these markets on a demo account before risking your money.
Volatility Indices from Deriv.com have a maximum leverage of 1:1000 and this can be a double-edged sword. It can prop up and amplify your profits as well as your losses.
If you are interested in trading volatilities you can
Open Deriv.com Account Here
If you found this post helpful you can share it with your friends so that they can benefit too.
Disclaimer
The products offered on the deriv.com website include binary options, contracts for difference ("CFDs") and other complex derivatives. Trading binary options may not be suitable for everyone. Trading CFDs carries a high level of risk since leverage can work both to your advantage and disadvantage. As a result, the products offered on the website may not be suitable for all investors because of the risk of losing all of your invested capital. You should never invest money that you cannot afford to lose, and never trade with borrowed money. Before trading in the complex products offered, please be sure to understand the risks involved.